Psst! These 15 Travel Rewards Secrets Let You Fly For Next to Nothing
Posted in Hotel Rewards Programs - Reward 101, Hotel Rewards Programs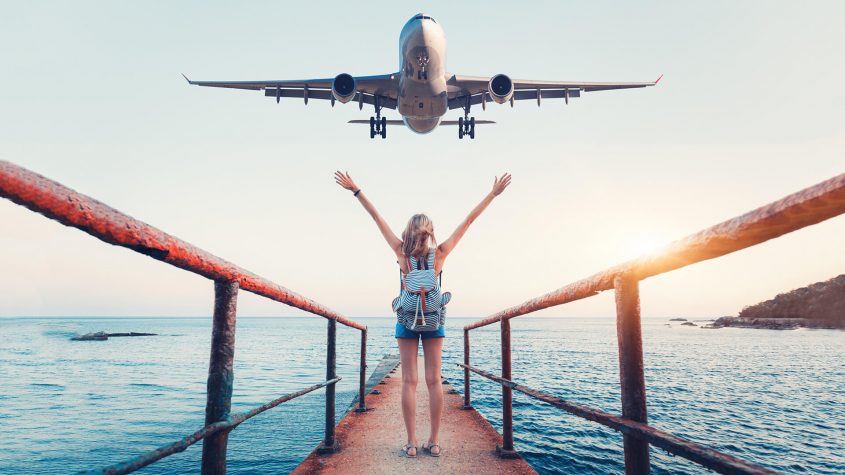 When people hear about some of the fantastic vacations I take with my points and miles, they always want to learn my secrets. Although there's no single piece of advice that I can slip to you that will have you traveling in business class for free tomorrow, I can offer you 15 of my favorite tips to get you started on the vacation of your dream:
1. Get a killer credit card combination. There's no single best card out there for everyone. Instead, you need a combination of cards that you can use to earn the most valuable rewards. My favorite combination is the Chase Sapphire Reserve that features triple points on travel and dining, and the Chase Freedom Unlimited that offers 1.5 times the points on all other purchases. I also like the new American Express Gold for quadruple points at U.S. supermarkets and restaurants and the Everyday Preferred for up to 1.5 times the points on all other purchases (when you make 30 transactions in a statement period).
2. Track your points and miles. I use AwardWallet, a free tool that stores all the logins, passwords and reward balances for myself and all of the family accounts that I manage.
3. Set a goal. Award travel enthusiasts don't collect points and miles for the fun of it, we do it because we want a redeem them for a specific reward. When you're starting off, set a modest goal, find out how many points or miles you'll need for it and create a plan to get them.
Read: Getting a Travel Rewards Credit Card Is the Best Money Move I Ever Made
4. Never buy anything online without going through a portal. Nearly every airline, hotel and credit card rewards program has a shopping portal, and this is a big way to earn lots of points and miles. Search for the best deal using sites like EVreward and CashBackMonitor.
5. Register for all the promotions you can find. Hotels typically have promotions offering extra points every quarter, and airlines frequently offer bonus miles. Credit card issuers will have promotional offers for extra rewards sometimes as well. But with most of these promotions, you have to first opt-in by registering for them online. Make a point to regularly visit the websites of your favorite reward programs and sign up for these offers.
Marriott has changed it's policy for transferring points between member accounts. We break down how to transfer Marriott Rewards points to another account, the new transfer limits, and restrictions to be aware of. https://t.co/O1hoM2te5G pic.twitter.com/mxeyH82VJW

— AwardWallet.com (@AwardWallet) December 19, 2018
6. Always opt-in for marketing emails. Do I need to buy new windows for my house? No! Do I want to earn extra travel rewards? Yes! I hate spam and junk mail related, except when it comes to credit cards and award travel. In fact, I look forward to receiving targeted offers and promotions that can be incredibly valuable.
7. Never sign up for store credit cards. This may just be my opinion, but I find that nearly every store wants to offer you some token discount to apply for their credit card … and you shouldn't do it. You can't sign up for every credit card you're offered, so you might as well sign up for just the best ones. The best are cards that offer over $500 worth of travel rewards, and sometimes well over $1,000. Store cards can't come near that!
8. Get to know your cardholder benefits. Once you have a wallet full of great travel reward cards, you can use them for more than just earning rewards. The best cards will offer valuable perks and benefits that you might not be aware of.
Enjoy: The 11 Most Extravagant, Exclusive and Surprising Perks You Can Get From Credit Cards
9. Try HUCA. Have you ever called an airline or hotel to get some help with your rewards and been disappointed by the results? Many of their representatives are poorly trained or just not motivated to help you. Experienced award travelers know that if you politely end an unproductive call and call back to speak with someone else, you might get a better answer. It's so common that we have a term for it: hang up, call again. Or HUCA.
10. Get your significant other into it. It can be quite a challenge for one person to earn enough travel rewards for a trip for two, but it doesn't have to be that way. When you enlist the resources of your spouse or significant other, then you can double the rewards you earn. In fact, you can do even better as he or she can hold cards that offer complimentary rewards and benefits to your own.
11. Get help from other award travel geeks. The great thing about award travel is that there's a community of like-minded nerds who like to help each other. Online, we trade information (and rants) at forums like Flyertalk, which has been around for over 20 years. Offline, there are local award travel meetups and even weekend long seminars.
12. Start planning way in advance. Spontaneous getaways are usually for those with big bank accounts, but when you use frequent flyer miles instead, you need to plan your vacations way in advance. That's when you'll find the most options to book your award flight with the fewest possible miles. That said, your miles can occasionally be useful to pay for expensive last-minute flights.
13. Get hotel elite status. To earn status with an airline, you'll have to actually fly a lot, and pay for the privilege. But hotels offer their elite status for free to those who have their co-branded credit card. And many of them give you credit toward elite status even when you redeem your points for a free night. With hotel elite status, you'll get perks like room upgrades, late checkouts and even free breakfasts.
Know: 9 Best Hotel Rewards Programs That Save You the Most Money
14. Earn transferable credit card points. You could earn credit card rewards with your favorite airline or hotel chain, but there's an even better way. Many card issuers offer their own points that can be transferred to frequent flyer miles or hotel points with several different programs. Then you can transfer the points to the right program that offers the best rewards. The credit cards with transferable points programs include Chase Ultimate Rewards and American Express Membership Rewards.
15. Always consider one-way flights. It's easy to think that you have to redeem your miles for a round-trip ticket, but nearly all frequent flyer programs let you book one-way awards. This way, you can fly out on one airline and return on another. And if you don't have enough miles for a round-trip award, book the more expensive one with miles, and pay cash for the other.
Click through to read more about how to travel the world for practically free.
More on Travel
We make money easy. Get weekly email updates, including expert advice to help you Live Richer™.
This article originally appeared on GOBankingRates.com: Psst! These 15 Travel Rewards Secrets Let You Fly For Next to Nothing