How I Use Travel Points to Book (Almost) Free Flights
Posted in Hotel Rewards Programs - Reward 101, Hotel Rewards Programs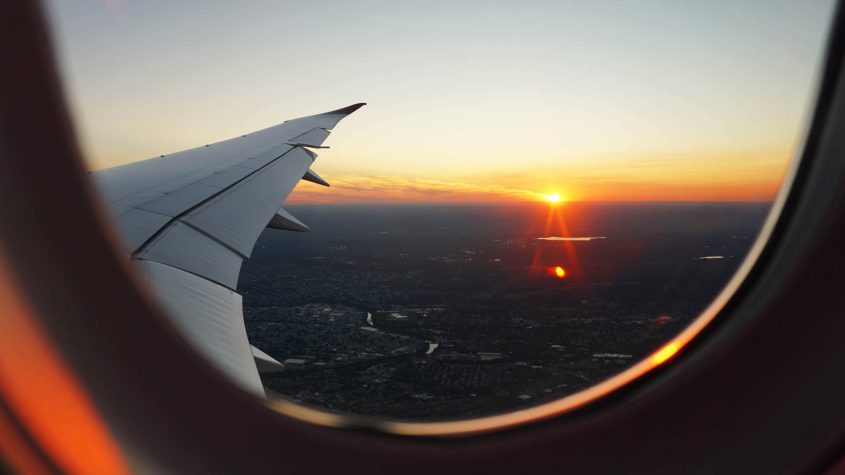 As a frequent traveler, I was always aware of travel points. I had a frequent flyer mile account and a travel rewards credit card, but I had no idea how to take advantage of my points to book free flights. Last year, I sat down and educated myself on how to "points hack," and have since flown four times to various countries and states using points alone.
Your everyday purchases can lead to big savings on travel. These are my tips for using travel points so you can get in on all the savings.
Click to read more about a couple who used points hacking for a free honeymoon.
Sign Up for an Airline Rewards Program
The first step on your travel points journey is to sign up for airline rewards programs. The majority of airlines are part of one of three global alliances: Star Alliance, oneworld and SkyTeam. This means that if you sign up for a program within a certain alliance, you're able to earn and use points for all member airlines. I recommend signing up for one program from each alliance to ensure that you're earning points on every flight, no matter which airline you're flying.
When choosing which airline rewards programs to sign up for, consider which airlines you fly frequently as well as which have hubs at your home airport. There's no point in signing up for an awards program that doesn't fly from your home airport.
Once you're signed up, start earning points on every flight by adding your frequent flyer number when purchasing tickets. AwardWallet or Points.com are great services for tracking points.
More on Cheap Travel: 36 Cheap Travel Tips for Everyone on a Budget
Sign Up for a Travel Credit Card
If you travel at least a few times per year, it might be worth signing up for a travel credit card. Travel credit cards award you a certain number of points for all your expenditures, oftentimes applying bonus points to travel purchases. The best card for you largely depends on your spending habits and travel frequency. MileCards can make the decision process easier.
Some cards offer benefits that extend beyond simply earning points. For example, my favorite card, the Chase Sapphire Reserve, includes membership to Priority Pass, a network of airport lounges. This saves me money since I no longer have to purchase overpriced food at airports. Consider the added perks when choosing a credit card.
The majority of cards also offer a sign-up bonus of 30,000+ points if you spend a minimum amount within the first three to four months. This bonus varies by card, but oftentimes, you can earn a free flight with the points from the sign-up bonus alone.
'Double Up' on Points
You can maximize your rewards by earning extra points almost every time you make a purchase. This is primarily done in two ways.
One way is to shop through your credit card's online shopping portal to earn points bonuses (which vary by retailer). You still pay the same prices and are on the same regular shopping website, but you receive a bonus by clicking through the portal.
The second way to earn points bonuses is to purchase all your flights using your travel rewards card. Not only do you earn points through your frequent flyer program but you also earn purchasing points through your credit card. Additionally, many travel credit cards offer double or triple points for travel purchases. Take advantage of this to get as many points as possible.
Redeem Your Rewards
Redeeming your points might seem confusing, but it's a relatively straightforward process. If you are redeeming points directly through your airline rewards account, simply use the "book using miles" functionality to see all available flight options. Note that oftentimes only a certain number of seats and flights are available for points redemption.
Alternatively, you can purchase flights through your credit card travel portal using your card points. This method offers many more flight options since you aren't restricted by specific airline alliances or blackout dates, but might cost more points than the first option.
There is no exact formula for determining which points you should use when, or when you should use points instead of purchasing tickets outright. Some points hacking professionals have developed various systems to determine which method is most valuable depending on a variety of factors, but these are mostly guidelines rather than rules.
Note: You always have to pay taxes and fees on all rewards travel booked, so your flight will never be 100 percent free, but it has the possibility of being very inexpensive.
I've offered an introduction to travel points for beginners. By digging even deeper into the world of rewards points, you'll likely be able to score even more bonuses using miles. In the meantime, sign up for some airline rewards programs and a travel credit card, and start earning points on your next trip.
Click through to read more about getting the most out of your travel.
 More on Travel: 
We make money easy. Get weekly email updates, including expert advice to help you Live Richer™.
This article originally appeared on GOBankingRates.com: How I Use Travel Points to Book (Almost) Free Flights