How to Maximize Hyatt "Points + Cash" Redemptions
Posted in Hotel Rewards Programs - Reward 101, Hotel Rewards Programs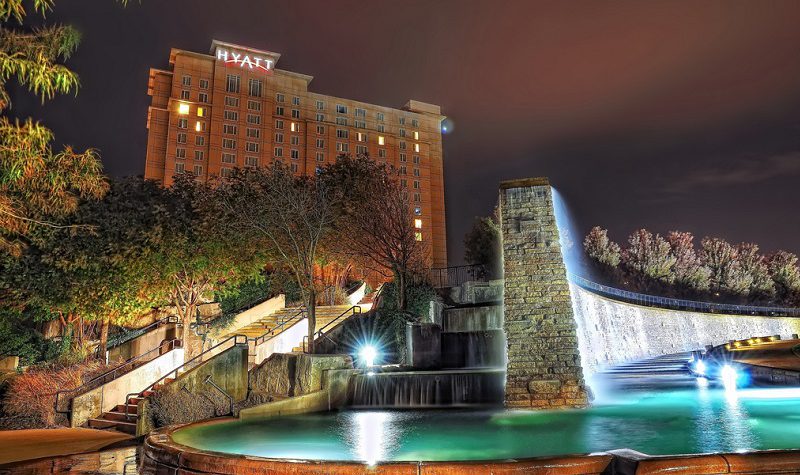 Hyatt's "Points + Cash" program allows you to book an award stay by using fewer points and a small amount of cash — meaning you could earn a free night a lot easier  Let's take a deeper look into the Hyatt "Points + Cash" program and how you can use it to your advantage.
Read: Cash in Your Points for These New Hotels in 2015
Hyatt "Points + Cash" Award Breakdown
Below you will find out exactly how many points and how much cash you will need for each hotel category of Hyatt.
| | | |
| --- | --- | --- |
| Hotel Category | Award Points Required for a Standard Free Night | "Points + Cash" Required for a Free Night |
| 1 | 5,000 | 2,500 + $50 |
| 2 | 8,000 | 4,000 + $55 |
| 3 | 12,000 | 6,000 + $75 |
| 4 | 15,000 | 7,500 + $100 |
| 5 | 20,000 | 10,000 + $125 |
| 6 | 25,000 | 12,500 + $150 |
| 7 | 30,000 | 15,000 + $300 |
With Hyatt "Points + Cash," you will be able to use half the amount of points that you would with a standard reward stay and then pay the rest with a set amount of cash. Think of it as though you are essentially buying Hyatt points for a lower rate than you normally could.
To better explain this, let's assume that you are going to be staying at a category five property. You could either use 20,000 points for a free one-night stay or you could use 10,000 points and pay $125. That means you are buying back 10,000 points at a cost of $125 or 1.25 cents per point — which is less than the actual worth of a Hyatt rewards point.
"Points + Cash" Count Toward Elite Status
If you are anything like me, then you are always working toward elite status with hotels. At Hyatt, the most elite is Diamond status, which you will attain after 25 eligible stays or 50 eligible nights in a calendar year. With Diamond status, you will earn free breakfast, complimentary room upgrades and access to an elite club at each hotel.  Starting on March 1, 2015, you will also receive two complimentary one-time-use United Club passes.
Any booking you make with Hyatt "Points + Cash" will count toward your elite status requirements. However, a standard reward night will not count.
Eligible for Diamond Suite Upgrades
If you have earned Diamond elite status at Hyatt, you'll receive four suite upgrades for that year. Each of these upgrades is good for up to a seven-night stay. You are not allowed to use these upgrades on award night, but they can be used on "Points + Cash" stays.
Hyatt "Points + Cash" Awards Available for Promotions
Hyatt frequently runs different promotions throughout the year.  Right now, it's featuring its "Stay More Play More" promotion where you can earn up to 50,000 points for different lengths of stays through April 30, 2015.  When you book a stay using "Points + Cash," these nights will also count toward the promotion requirements.
Booking Hyatt "Points + Cash" Awards
I love redeeming award nights using Hyatt "Points + Cash," but I really wish it was a little easier to make my reservations. Instead of being able to get online to book my trip, the hotel requires you to call its reservation line (1-800-228-3360). The nice thing is that I have always had really good luck with availability, which is completely different from when I try booking with other hotels.
Examples of How Hyatt "Points + Cash" Can Work For You
Let's assume that you are going to book a one-night stay on Aug. 1 at the Andaz Napa.  It could cost you either $449 or 20,000 Gold Passport points. With an award stay, you would be getting a 2.25 cent per-point value. If you use "Points + Cash," it would cost you $125 and 10,000 points to take care of the other $334. This equals 3.3 cents in value per point.
Hyatt has some of my favorite hotels anywhere around the world.  By being able to only use a portion of my points along with cash, I am able to get even more value from my trip.
Photo credit: Lane Pearman