Hotels Are Getting Cheaper in These 5 Tourist Hot Spots
Posted in Hotel Rewards Programs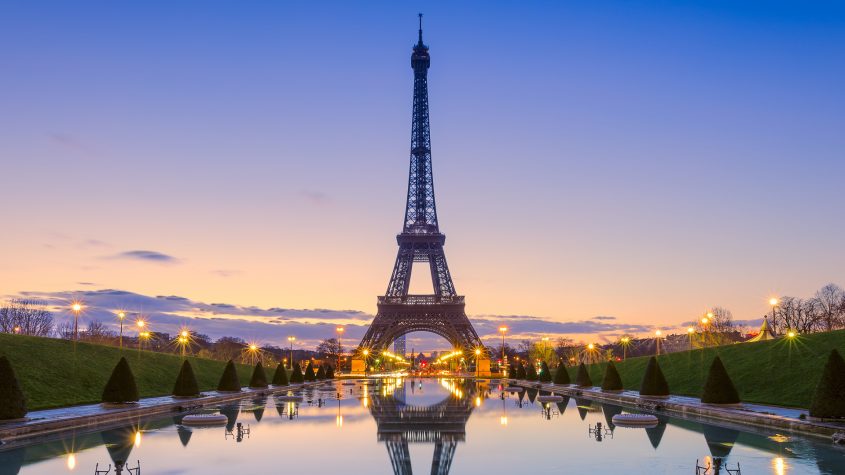 Savvy travelers know that booking an affordable hotel in popular tourist destinations requires patience, persistence and a bit of luck. Thankfully, there are a few hot spots around the world that are becoming more affordable.
Travel website Trivago has a handy hotel price index tool that lets you compare hotel prices to see how they've changed over time. Take a look these five popular cities that have lower hotel prices year-over-year and month-over-month as of February 2019. Some have seen small decreases, while others have seen massive drops in prices.
We've also outlined some helpful tips so you can save even more money once you're there.
Click to See: The Most Expensive Tourist Destinations in the U.S.
1. Rome, Italy
Average hotel cost: $84
Month-over-month price change: -3%
Year-over-year price change: -10%
The capital of the ancient world and a nucleus of modern Europe, Rome has been a top vacation spot for years. Essentially an open-air museum full of antiquities, archaeological sites and masterful art, Rome is a must if you value culture and love history. Go there to marvel at UNESCO World Heritage Sites, feast on Italian cuisine and live la dolce vita.
With hotel prices falling, you might be able to find hotel deals in Rome. Flights are also trending cheaper, according to travel site Hipmunk, which found that the 2019 median booking price is $677 in Rome — a 19 percent decrease from 2018. Additionally, GOBankingRates also found that the cost of living (minus rent) has gone down about 11 percent in the Italian city.
How to save even more in Rome: Rome is a very walkable city, but it's spread out. Choose accommodations that are either on major public transportation routes or close to popular attractions so you don't spend too much money on taxis. Additionally, consider visiting in the off-season (October-April) to get the best hotel prices.
Get the Scoop: 50 Hotel Secrets Only Insiders Know
2. Paris, France
Average hotel cost: $134
Month-over-month price change: -6%
Year-over-year price change: -7%
Paris is often on many travelers' bucket lists. A city full of haute culture, fine dining, world-class museums and high fashion, it's hard not to fall in love with the sights and smells of the City of Love. Whether you want to overload on crepes, take in the art or be enthralled by the architecture, Paris has something for every type of visitor.
If Paris is indeed on your bucket list, now might be the time to visit. Hotel prices are down 7 percent year-over-year, and airfare is down 6 percent year-over-year. The cost of living has also dropped about 9 percent from 2018 to 2019.
How to save even more in Paris: Save on hotels by visiting in the fall. It's a great time to catch the stunning fall foliage without fighting the summer crowds.
The Paris Pass is a cost-effective way to visit the city's popular tourist attractions. An all-inclusive attraction and public transportation booklet, it offers access to major attractions like the Louvre Museum, Versailles Estate, Towers of Notre-Dame and Arc de Triomphe.
Find Out: How to Get the VIP Travel Treatment You Deserve
3. Vienna, Austria
Average hotel cost: $104
Month-over-month price change: -3%
Year-over-year price change: -4%
Austria's capital is a mesmerizing mix of old-world grandeur with modern touches. Hotel prices have fallen slightly, so consider putting this destination on your list if you want to save money.
The Wiener Staatsoper and other classical pursuits are still major attractions. Vienna is a walkable city, so you can explore its beauty foot. However, two of the more exciting ways to see the sights are by tram or boat.
How to save even more in Vienna: You'll find hotel prices more affordable outside of peak season (summer and school holidays). You can also save money by purchasing a Vienna City Card, which allows for free rides on public transportation for 24, 48 or 72 hours. These cards start at around $20.
Don't Miss: 13 Hidden Expenses to Watch Out for When Vacationing in Europe
4. Auckland, New Zealand
Average hotel cost: $74
Month-over-month price change: -40%
Year-over-year price change: -57%
New Zealand's major international gateway has experienced a 57 percent drop in hotel prices year over year. Take the opportunity to visit this enchanting destination that's truly one-of-a-kind.
Auckland's landscape is dotted with volcanic cones and skyscrapers, which makes for some pretty unique attractions. If you're an adrenaline junkie, you'll get a thrill bungee jumping off the Harbour Bridge, circumventing the Sky Tower or trying indoor skiing year-round.
How to save even more in Auckland: To sore the best hotel deals, always consider your options. Compare all accommodation types from hotels and bread-and-breakfasts to private rooms at hostels.
The best time to visit Auckland really depends on what style of traveler you are and what type of trip you seek. But if you want to save money, avoid visiting December through February. That's when you'll likely see more expensive flights and hotel rooms. Instead, consider traveling between March and May and September and November.
Also See: Cheapest Times of the Year to Fly to Europe
5. Bogotá, Columbia
Average hotel cost: $57
Month-over-month price change: -3%
Year-over-year price change: -2%
Colombia's capital, Bogotá, is a melting pot many travelers will appreciate. The cultural epicenter of La Candelaria is full of cobblestone streets flanked by Andean Peaks, which makes for a unique South American escape. Luckily for travelers, prices are down and the average cost of a hotel is just $57.
How to save even more in Bogotá: Bogotá already has cheap hotel prices thanks to a highly favorable exchange rate. But to save even more dough, take the public buses. The TransMilenio is a convenient transportation option and will set you back less than $1 a ticket.
The cheapest time to visit Colombia is from late August to November and in May. Rates tend to increase in early December.
Keep reading to see how to travel the world for practically free.
More on Travel:
We make money easy. Get weekly email updates, including expert advice to help you Live Richer™.
Please note: All hotel data points (average cost, month-over-month changes and year-over-year changes) are accurate as of February 2019 via Trivago. All details about the best or cheapest times to visit were sourced from U.S. News, Lonely Planet and Frommer's Travel Guide.
This article originally appeared on GOBankingRates.com: Hotels Are Getting Cheaper in These 5 Tourist Hot Spots