5 Most Luxurious Hotels to Use Your Marriott Points
Posted in Hotel Rewards Programs - Reward 101, Hotel Rewards Programs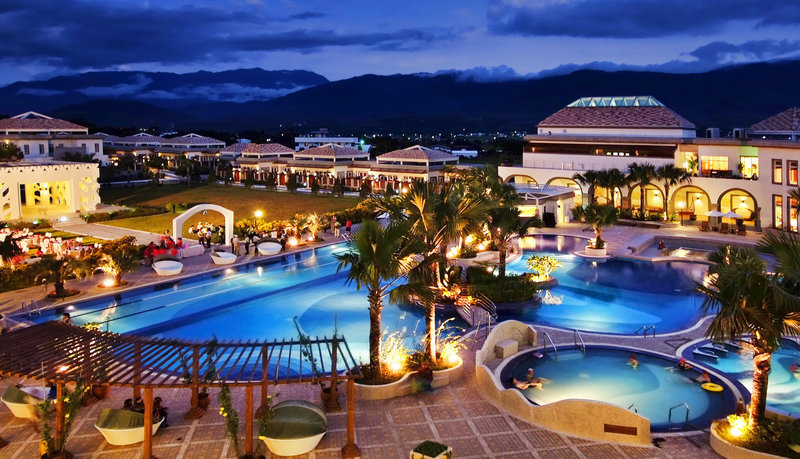 Marriott and its hotel partners have some of the nicest hotels and resorts that you could ever want.  Some of its brands — like the JW Marriott, Ritz-Carlton and Renaissance — have locations in some of the world's most desirable vacation spots.
When I am looking to book a hotel, I not only want to find a great value, I want luxury, too. I need to be able to get a good night's sleep or the entire vacation is going to be less than perfect. I need to feel like I am spending my time in a five-star hotel and not a Budget Inn. If I'm staying somewhere more secluded, I like having great restaurant options available, too. And if I'm going to be in a tropical location, the rooms have to have amazing views.
To help you use your points and dollars on a truly unforgettable night, here are five of the most luxurious Marriott hotels in the world.
Read: 7 Best Winter 2015 Hotel Promotions
JW Marriott Phuket
If you are going to be making a trip to the JW Marriott in Phuket, Thailand, you'll be happy to find the resort is only a short, 15-minute ride from the airport. The property is situated on the picturesque Mai Khao Beach along the Andaman Sea, and offers exactly what you would expect from a five-star hotel. The property has multiple pools, 11 different restaurants and bars, and its own cooking school, where you can learn a thing or two about making Thai cuisine.
The Mandara Spa offers a wide array of options for a completely relaxing experience, including the choice of either Western or Asian spa treatments. The hotel, which was ranked by Travel + Leisure Magazine as one of the best hotels in Asia, is a category 7 property, which will cost a minimum of 35,000 hotel rewards points per night.
Ashford Castle
If you are looking for a truly exceptional experience, a stay at the Ashford Castle outside Cong, Ireland, is a must. Dating back to 1228, the Ashford Castle is part of the Red Carnation Hotel Collection, but it has a partner agreement with Marriott.  A one-night stay during the off-peak season will cost you 70,000 points — if you're going to be traveling during the peak season, it'll run you 85,000.
Situated on 350 acres, the Ashford Castle has 68 guest rooms and 14 staterooms and suites, all of which have spectacular views of Ireland's countryside.  The castle regularly hosts royalty, dignitaries and celebrities — it's hard to say who might be staying there when you are.
The Ashford Castle has received several prestigious awards in 2014, including being rated the second best resort in Europe by Conde Nast and one of the top 500 hotels in the world by Travel + Leisure.
JW Marriott Bangkok
The JW Marriott Bangkok is the one of the world's finest hotels — it, too, has made Travel + Leisure's list of top 500 hotels. Whether you're in town for business or pleasure this hotel is located right in the middle of the action.
The JW Marriott Bangkok has exactly what I look for in a high-end property — luxury bedding and a great selection of fine dining options. If you don't want to venture out on any particular night of your stay, you can choose from Marriott Café, Nami Teppanyaki steakhouse, Tsu Japanese Restaurant, Bangkok Baking Company or New York Steakhouse.
This is a category six hotel, which means it'll cost you 30,000 hotel rewards points a night. That is much more affordable compared to the Ashford Castle or any Ritz-Carlton property. 
Ritz-Carlton Grand Cayman
With outstanding service and deep blue ocean vistas, this is a must-see Caribbean location. Golfers will enjoy Blue Tip, which is a nine-hole Greg Norman-designed golf course. If the culinary scene is more your thing, then one of the five restaurants on the resort might pique your interest, including Blue by Eric Ripert, a James Beard award winner for his New York restaurant Le Bernardin.
The biggest downside to the Ritz-Carlton Grand Cayman is that it charges a $70 resort fee, which includes things like free meals for children under five, water sports and other incidentals. This is a tier five Ritz-Carlton property, so if you will be using points it's going to cost at least 70,000 per night.
Ritz-Carlton New York Central Park
New York is one of my favorite cities to visit. It has endless culinary options, the shopping is amazing and there's always something to do no matter what time of day it is.
New York is also home to some of the world's nicest hotels.  One of them is the Ritz-Carlton New York Central Park.  This hotel exemplifies pure luxury, from the moment you walk through the lobby all the way until you see the views of Central Park from your room. If you're struggling to get a good night's sleep at most hotels, you're in luck: You'll have your choice of seven different types of pillows.
The Ritz-Carlton New York Central Park is a short walk from Fifth Avenue, Broadway, Rockefeller Center, Lincoln Center and other Midtown Manhattan attractions. As a tier five property, it will cost you 70,000 Marriott points.
Photo credit: William Cho